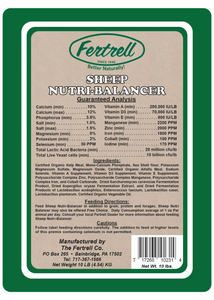 Sheep Nutri-Balancer
Regular price
$36.99
$0.00
Unit price
per
Shipping is included in the price for all products!
As a completely organic and natural vitamin and mineral supplement, your sheep will thrive on our Sheep Nutri-Balancer.  Sheep Nutri-Balancer is a nutritionally complete premix with natural vitamins, minerals, electrolytes and probiotics in the right proportions for a healthy flock, with no added synthetic copper.
Sheep Nutri-Balancer may be offered free choice during the grazing season or winter season or may also be mixed with grains for flushing ewes during breeding season and feeding lambs. Feed Sheep Nutri-Balancer in addition to grain, protein and forages. Average daily consumption expected is 3⁄4 oz per animal per day. 
See below for detail on how to combine Sheep Nutri-Balancer with bulk feed ration components for complete nutrition.
Available in 10 lb foil bag and 50 lb paper bag.
From the Manufacturer:
Fertrell's Nutri-Balancers are special blends of vitamins, minerals and direct fed microbials (selected bacteria and probiotics) to balance your feed programs and ensure proper nutrition. Nutri-Balancer feed supplements contain the highest quality ingredients to ensure the best absorption and utilization your animals. By including special ingredients such as kelp meal, alfalfa meal, and digestive probiotics, Fertrell Nutri-Balancers help to provide all of the key nutrients your animals need to thrive. Our philosophy is that a well-bred animal should be a well-fed animal. Breeding determines what an animal can do feeding and management determine what an animal will do. Let Fertrell Nutri-Balancers help give you a well-fed animal. 
Mix Sheep Nutri-Balancer with bulk organic feed ingredients in these proportions for a complete organic feed sample
16% protein 
ration (per 2,000 lbs):
Shelled Corn, 1,135 (56.75%)
Roasted Soybeans, 550 (22.5%)
Oats, 250 (12.5%)
Sheep Nutri-Balancer, 50 (2.5%)
Salt, Redmond, 15 (0.75%)

GUARANTEED ANALYSIS
Calcium (min) .................................................... 12%
Calcium (max) ................................................... 14%
Phosphorus (min) .............................................. 3.5%
Salt (min) ............................................................. 1%
Salt (max) ......................................................... 1.5%
Magnesium (min) ................................................ 8%
Potassium (min) .................................................. 2%
Selenium (min) .............................................. 30 ppm
Vitamin A (min) .................................. 230,000 IU/lb
Vitamin D3 (min) .................................. 70,000 IU/lb
Vitamin E (min) ......................................... 800 IU/lb
Manganese (min) ..................................... 2,200 ppm
Zinc (min) 2,000 ............................................... ppm
Iron (min) ................................................. 1,800 ppm
Cobalt (min) ................................................ 100 ppm
Iodine (min) ................................................. 170 ppm
Total Live Yeast (min) ...................... 10 billion CFU/lb
Total Lactic Acid Bacteria (min) ...... 20 million CFU/lb
---